May was a little on the quiet side in terms of quality eShop greats, but there were still a number of titles released that are absolutely worthy of your time.
These awards aim to celebrate the best of Nintendo's digital store, giving some love and attention to the games that could so easily be missed in the Switch's ever-growing library.
So, let's get started. Here are the best Switch eShop games of May 2021!
Honourable Mentions:
While these titles didn't quite make our top three this month, they're still certainly worth checking out:

Publisher: Electronic Arts / Developer: Velan Studios
Release Date:
21st May 2021 (USA)
/
21st May 2021 (UK/EU)
Taking third spot this month is Knockout City, a colourful arcade dodgeball game that gives off some pretty welcome Splatoon vibes.
We gave this one a mighty 9/10 in our review, calling it "an absolute blast that's easy to jump into for newbies with plenty of depth and strategy for crews looking to become the ultimate dodgeball champions." As you'd expect, it definitely works better with friends rather than playing with strangers, but it runs great on Switch and cross-play means that you can always jump into a quick game. It's definitely worth a look.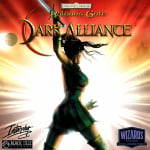 Publisher: Interplay / Developer: Black Isle Studios
Release Date:
7th May 2021 (USA)
/
7th May 2021 (UK/EU)
Jumping up to second place we have Baldur's Gate: Dark Alliance, a punishing but pleasurable dungeon crawler.
This one isn't for everyone thanks to its high level of difficulty, especially by today's standards, but this is an excellent port of the 2001 original and a lot of fun if you're looking for a challenge. In our review, we said, "it may outstay its welcome to some extent with gameplay that's not quite complex enough to warrant its lengthy campaign, but the port is one of the very best we've seen, improving the visuals of the original and maintaining a flawless framerate along with a UI perfectly suited to handheld play."
Last month saw the release of both Famicom Detective Club: The Missing Heir and Famicom Detective Club: The Girl Who Stands Behind and while we enjoyed both, it's the latter that topped our staff vote, taking home the gold in this month's eShop Selects.
Maybe it's because the story in The Girl Who Stands Behind is creepier than The Missing Heir, or maybe it's because the characters are more likeable? In all honesty, either (or both) of these games are worth checking out if you're interested in previously obscure Nintendo history or old-school point-and-click goodness. If you have the means to buy both that's definitely the way to go, but if must pick only one, perhaps go with The Girl Who Stands Behind.
---
< Nintendo Life eShop Selects – April 2021
---
How we decide our eShop Selects top three: As we reach the end of every month, the Nintendo Life staff vote on their favourite titles from a list of games selected by the editorial team. To qualify for this list, these games must have been released as a digital-only Nintendo Switch eShop title in that particular month, and must have been reviewed on Nintendo Life; we select the qualifying games based on their review scores.
Staff are then asked to vote for three games that they think deserve to sit right at the very top of that list; first choice gets 3 points, second choice gets 2 points, and third choice gets 1 point. These votes are then tallied to create a top three list, with the overall winner taking that month's top prize.
dgpConsent.can('targeting',function () { !function(f,b,e,v,n,t,s) {if(f.fbq)return;n=f.fbq=function(){n.callMethod?n.callMethod.apply(n,arguments):n.queue.push(arguments)};if(!f._fbq)f._fbq=n;n.push=n;n.loaded=!0;n.version='2.0′;n.queue=[];t=b.createElement(e);t.async=!0;t.src=v;s=b.getElementsByTagName(e)[0];s.parentNode.insertBefore(t,s)}(window, document,'script','https://connect.facebook.net/en_US/fbevents.js');fbq('init', '2325732614399478'); fbq('track', 'PageView'); });

Source link