You know that Pokémon GO? It's still pretty popular, by all accounts — specifically the bank accounts of Niantic and The Pokémon Company (and by extension Nintendo).
Data from Sensor Tower (thanks, MCVUK) indicates that the hit AR mobile Pokémon catchathon is still doing incredible business around the globe and has now hit the $5 billion mark in lifetime revenue.
Having launched in the US on July 6th 2016, this means that the game has averaged a staggering $1 billion every year since launch. Niantic has a host of anniversary events to celebrate the game's fifth birthday, but it seems that the makers have got one more thing to celebrate after reaching this impressive milestone.
As you can see from Sensor Tower's bar chart below, the game has Gigantamax-ed since launch and continues to spin huge amounts of money for all the companies involved: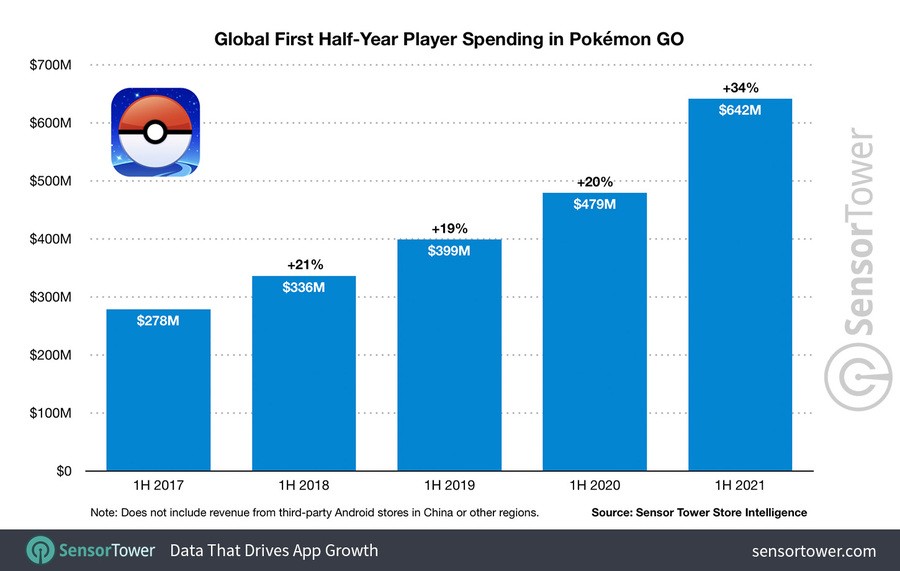 The Pokémon Company recorded its highest profits ever in 2020 and Pokémon GO was a huge part of that. Sensor Tower reports that the game is keeping pace with its record-setting 2020 revenue as we head into the second half of 2021 — it'll be very interesting to see how the figures compare at the end of the year as the second half of 2020 was characterised with lockdowns and restrictions caused by the pandemic and Niantic intends to return various elements of the game to their pre-COVID state.
Let us know below if you've contributed to that huge revenue figure and if you're still enjoying Pokémon GO in the larger franchise's 25th anniversary year.
dgpConsent.can('targeting',function () { !function(f,b,e,v,n,t,s) {if(f.fbq)return;n=f.fbq=function(){n.callMethod?n.callMethod.apply(n,arguments):n.queue.push(arguments)};if(!f._fbq)f._fbq=n;n.push=n;n.loaded=!0;n.version='2.0′;n.queue=[];t=b.createElement(e);t.async=!0;t.src=v;s=b.getElementsByTagName(e)[0];s.parentNode.insertBefore(t,s)}(window, document,'script','https://connect.facebook.net/en_US/fbevents.js');fbq('init', '2325732614399478'); fbq('track', 'PageView'); });

Source link