A while back, writer and narrative designer Kelsey Beachum was working on Outer Wilds, the fantastic space-adventure game with a very cool twist that we won't spoil (just play it when it comes to Switch!). When The Outer Worlds — Obsidian's "Fallout in space" game — came out a few months later, people were very confused, including many journalists who constantly had to check if it was the i one or the o one (and it's never the one you think).
Luckily, Beachum had an answer:
Unfortunately, that helpful way of remembering the difference quickly became obsolete, as Beachum was hired by Obsidian just a few months later.
And now, with the Outer Wilds DLC finally announced, Beachum told her Twitter following a new fun fact: she was working on both at the same time. We're pretty sure this is the stuff that anxiety nightmares are made of, or that Beachum will somehow cause a confusion paradox and implode the universe. Either way, we're impressed.
But with all the DLC out, how on earth are we supposed to remember which ones Beachum worked on?
Easy: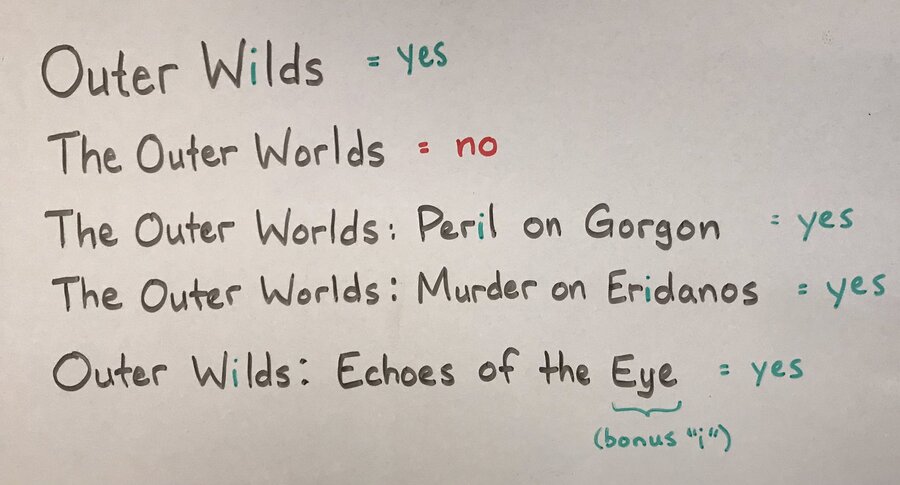 The Outer Wilds DLC, "Echoes of the Eye", will release on the 28th September on all platforms except the Switch, which is due for a Holiday launch.
Now, if you'll excuse us, we need to have a lie down. Or was it a loe down?
dgpConsent.can('targeting',function () { !function(f,b,e,v,n,t,s) {if(f.fbq)return;n=f.fbq=function(){n.callMethod?n.callMethod.apply(n,arguments):n.queue.push(arguments)};if(!f._fbq)f._fbq=n;n.push=n;n.loaded=!0;n.version='2.0′;n.queue=[];t=b.createElement(e);t.async=!0;t.src=v;s=b.getElementsByTagName(e)[0];s.parentNode.insertBefore(t,s)}(window, document,'script','https://connect.facebook.net/en_US/fbevents.js');fbq('init', '2325732614399478'); fbq('track', 'PageView'); });

Source link