Metroid Dread looks to be the return to the series' 2D roots that fans have been waiting for for nigh on two decades. Metroid: Samus Returns on 3DS was excellent, but as a remake of Metroid II on Game Boy, it was a known quantity — this is an entirely new game, and we can't wait to get our hands on it.
The game is releasing on 8th October in physical and digital forms, of course, but there's also a Special Edition pack which comes with a variety of goodies, including a SteelBook case, five cards with box art from the previous games in the five-part 2D series (Super Metroid and Metroid Fusion being numbers 3 and 4 if you're not a follower of Samus' bountry hunting), and an art book featuring 190 pages covering those games.
Here's a look at everything included: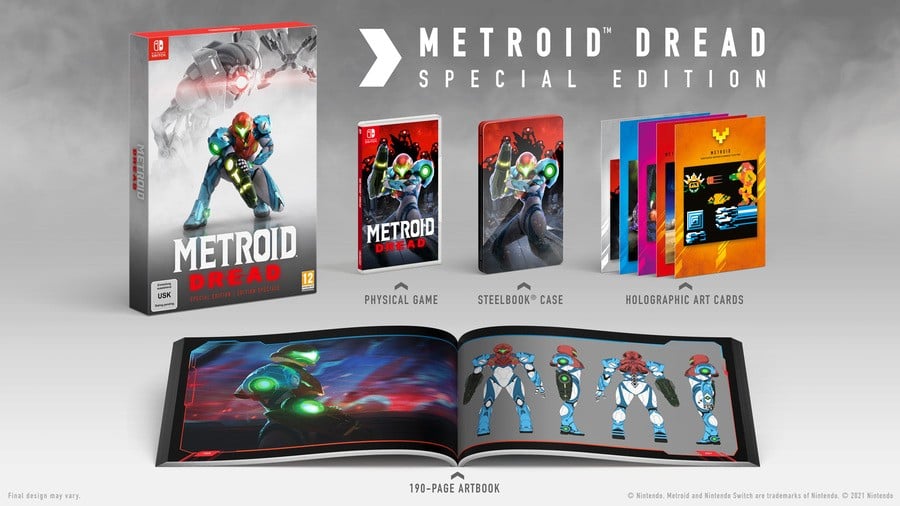 The two amiibo of Samus and an E.M.M.I. aren't included, unfortunately, so you'll have to pick those up separately.
Yes, yes, but how many arms and legs is this going to cost me? we hear you cry. Well, Best Buy has the Metroid Dread Special Edition available for $89.99 — the Standard edition is going for £49.99 / $59.99 when it launches on 8th October, so you're paying a $30 premium for those tasty extras above.
Like the look of these goodies? Let us know if you'll be paying a premium for this Special Edition Metroid Dread pack below.
dgpConsent.can('targeting',function () { !function(f,b,e,v,n,t,s) {if(f.fbq)return;n=f.fbq=function(){n.callMethod?n.callMethod.apply(n,arguments):n.queue.push(arguments)};if(!f._fbq)f._fbq=n;n.push=n;n.loaded=!0;n.version='2.0′;n.queue=[];t=b.createElement(e);t.async=!0;t.src=v;s=b.getElementsByTagName(e)[0];s.parentNode.insertBefore(t,s)}(window, document,'script','https://connect.facebook.net/en_US/fbevents.js');fbq('init', '2325732614399478'); fbq('track', 'PageView'); });

Source link